FiReSpAm's Bio
Whoa! You actually want to know about me?!? Umm...o-kay...
My name's Jen R. but most people call me J-Ray (some nickname Crazy J made up for me instead of Sugar). Other nicks I have are Crash (cuz of a golf cart accident), Paranoid_Android12, FiReSpAm (which I'll bring up later), Sailor Prism, and GlueGrrl (cuz of an embarassing moment with a glue bottle). My birthday's September 19th (send me all the presents u want! :-) ). I'm tall for my age. I'm like 5'9'' (I don't know! hehe, I grow too fast, y'know!). And yeah, I have a boyfriend (Mike) and he's a great boyfriend!!! :-) hehe... More stuff about me: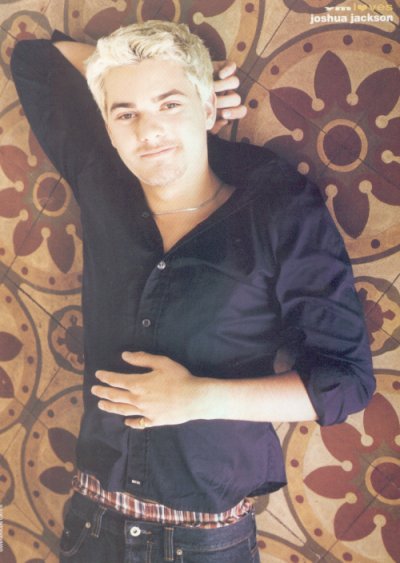 *There's no way I'm leaving out my favorite pic of my fav actor, Josh Jackson! He's cute, eh?* I live in Pennsylvania near a golf course in a small neighborhood. I go to school at Red Land. I listen to all kinds of music like alternative, punk, r&b, rap, pop, electronica, indie, and more. I hate oldies, jazz, and country and Hanson, though. My favorite bands are Radiohead, New Radicals *waah, they broke up! :-( *, Smashing Pumpkins, Beastie Boys, Dave Matthews Band, Green Day, Eminem, Robbie Williams and Usher.
I'm playing guitar right now. Other stuff I do is play basketball which I love. I'm a forward most of the time. I play volleyball which I'm pretty good at but I'm a bad server *I can actually serve now! yeah!*. I might be doing some track & field soon. Softball is probably one of my favorite sports but it's the one I'm worse at. I'm a third baseman or a right center fielder. I also just started playing field hockey for Red Land. I'm not a starter but I play right wing as a replacement for the starter. I love to swim especially in my pool (which HollyCat73 and BackstreetBoyGirl are gonna take over any chance they get! :-) ) I just started skateboarding. I'm doing ok in it but I'm not as good as Tess who's trying to teach me right now. I also love to play video games. Especially action and RPG's. I'm also good at street fighting games, too. Sports games bore me to death. My favorite games are anything in Final Fantasy. I love to read comic books and magazines, too. Especially MixxZine. I go roller bladin' a lot, too. And I'm a good biker even though my bike's a little old. I play Magic: The Gathering and I'm working on collectin' all of the cards from Tempest.
The Story Of The FireSpam
*Yeah, Yeah, I know I'm a crazy person..:-)*

So people've asked moi where I ever came up with the name FiReSpAm. Well, one day me and my friend, Katie, were on the computer and I showed her this one page called the Unofficial Page o' Spam. We thought it was hilarious and all that. So we kept saying, "Yeah! Spam! The Spamians shall take over the planet!" We were being really weird. Well, then we were watching Beavis and Butthead and saw the fire episode and then we started saying, "Fire! And Spam! FireSpam!" And that started the word Firespam. On my 12th birthday, HollyCat73 got me a green beanie baby frog. One of the frogs you see at Fashion Bug. It looked just like her frog except it was green. Well, then everyone asked me what I was gonna call it, Katie started saying FiReSpam. So I called the frog Firespam and then named HollyCat73's frog Waterspam! After I started re-doing my page, (the old page called BlurKat's Music Jukebox wasn't really going well) I rememberd FiReSpam and started this humble lil' page.